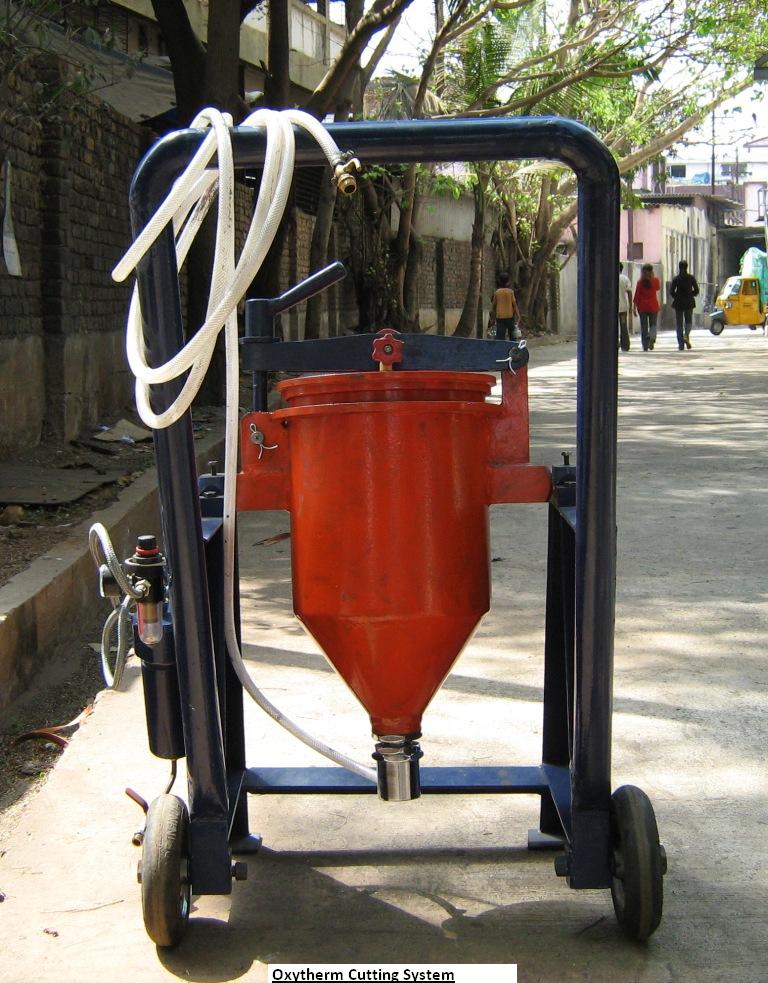 OXYTHERM CUTTING SYSTEM For Cutting Stainless Steel Billets, Blooms in Steel Plants and Profile Cutting in Fabrication Shops
Now you can cut that unwanted material. A revolutionary technique in cuttin is now developed. Now cut with gas torch any alloy steels so far not possible. Convert your oxy-acytylene gas torch to cut stainless steels, high alloys or any steel.
You can cut:-
Upto 250 - 300 mm thick slabs of any grade of steel including super alloys.
Cut runners / risers in foundries.
Cut scrap of any shape.
Cut slag - metal dumps continuously in steel plants / foundries.
Cut castings of any shape.
Cut billets / slabs / rounds faster than you think.
Oxytherm is portable and uses only compressed air. Oxytherm equipment is available at a fraction of a cost of plasma cutting equipment. The running cost is one third compared to plasma cutting.
No need of electric power.
Fully portable on lightweight trolley.
Cut at any angle including overhead fixtures.
Zero maintenance.
Fully user-friendly with self-cleaning features.
All parts available from stock. Service and spares offered immediately. All leading steel industries are using the oxytherm.